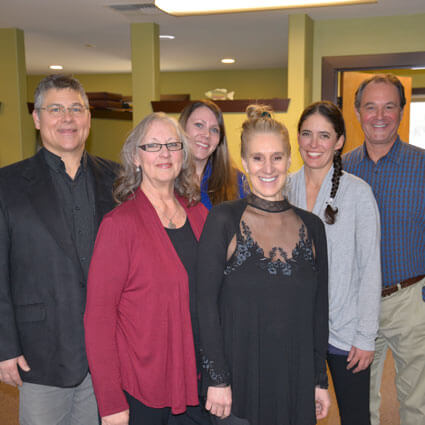 About Us
Dr. Daniel Bourque, or Dr. Dan, as he's known, began practicing in 2000. Bend Whole Health Chiropractic had been in existence for several years by then. When Dr. Dan chose to relocate to Bend, it was thanks to the natural beauty and recreational opportunities in our area. He took over Bend Whole Health Chiropractic and has raised his family in our community.
Why Choose Us?
Dr. Dan knows what it's like to be unable to do what you want to do. He first began seeing a chiropractor at age 25 when he was sidelined by severe back pain. With all the activities available in our area, you don't want to be held back from your passions.
Our patient-centered approach ensures that we tailor what we do to your needs, wants and goals. You'll return to skiing, playing with your kids or grandkids, hiking and whatever else you're passionate about. You and Dr. Dan will work together to collaborate on what's best for you and what works for you.
No Cookie-Cutter Plans
We get it—not everyone fits into the same box when it comes to health care. Know that we see you as a unique individual. Our entire team believes in The Golden Rule, treating you as we would want to be treated. That means customized care and making sure that you know when you're here, you're our priority.
MEET DR. DAN »
We Want to Surprise and Delight You
There's nothing better than seeing someone overcome an issue that they thought would be with them for their entire life. We see many patients with sciatica and pain into the arms and legs, headaches and other challenging conditions. You may have tried other ways to manage it and can't find relief.
One of our most surprising cases is about a 2-year-old. The little girl's grandmother was a patient of Dr. Dan's and reported that her granddaughter was unable to put weight on her legs. The pediatrician and orthopedist were both convinced waiting was the best option. Dr. Dan wasn't positive he could help but was willing to evaluate the girl.
He found a problem in her neck and gave a gentle adjustment with the Activator® instrument. The girl's mom said the next day she could put weight on one leg. After a second adjustment, she could stand on both legs. After the third adjustment, she hopped off the table and followed Dr. Dan to the other room so she could get a chocolate, walking completely on her own power.
Same-Day Visits
You don't have to wait to get in. Contact our chiropractic office now!

About Bend Whole Health Chiropractic | (541) 389-1191