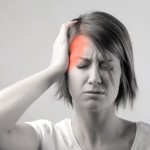 One of the two most common types of headaches is tension headaches, which many people report to be suffering from with varying degrees of intensity. Research findings support relief from tension headaches through chiropractic care.
People who suffer from headaches report feeling pain in one part of the head, behind the eyes, or the whole head. Some people also suffer from nausea during a headache while others don't. Headaches can sometimes prevent normal daily functioning, and if it gets too serious, immediate medical attention is required.
What Are Tension Headaches?
A tension headache is characterized by a constant dull ache behind the eyes, on one side, or both sides of the head. Almost 75 percent of people suffer from tension headaches and the condition may persist anywhere between a few minutes and a few days.
Tension headaches are commonly caused by subluxations in the neck and upper back, which may be a result of tension or bad posture. Chiropractic care can effectively help correct any neuromusculoskeletal cause of your headache. For tension headaches that originate from the neck, multiple researches show that chiropractic care is an effective method.
Research Findings
Researchers at the Duke University released a report in 2001, which found that chiropractic care for headaches is long lasting with fewer side effects and helps treat headaches that originate in the neck through spinal manipulation. Another study published in the Journal of Manipulation and Physiological Therapeutics reported similar findings. It also reported that people who received chiropractic care for tension headaches for four weeks continued to benefit after stopping treatment compared to those who sought relief from pain medication
If you frequently suffer from tension headaches,  visit our clinic today for a chiropractic consultation for headache relief.