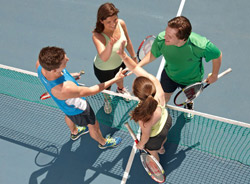 Tennis is an enjoyable sport that keeps you active and healthy but it can also lead to injury. Chiropractic care can help treat many tennis injuries and may also help prevent some of them.
Common Tennis Injuries
Compared with other sports, tennis poses a lower risk of injury. However, some factors can lead to injury. The repetitive actions of the sport may affect your shoulders, wrists or elbows, while more serious injuries may harm the ankles, lower back or knees.
Some common injuries affecting professional tennis players include stress fractures of the back, sprained ankles, disc injuries, back sprains, calf strains, tennis elbow, and shoulder tendinitis.
How to Prevent Tennis Injuries
Tennis injuries can be caused by a number of reasons, such as playing with bad form or posture, not warming up and cooling down correctly, insufficient rest, or playing with a previous injury. However, with proper care, tennis injuries can be prevented.
Some key points to remember in this regard include:
Wearing the correct shoes that provide comfort and appropriate support while running
Using the right equipment and holding your racquet firmly and properly
Adequately warming up and cooling down
How Can Chiropractic Care Help?
Chiropractic care can treat many spinal injuries while also helping with pain relief of the joints, sore shoulders, wrists and elbows.
Chiropractors are well trained in body dynamics and effective manipulation techniques to help relieve body pain sustained through different kinds of injuries.
For more information about chiropractic treatment for tennis injuries or to book your appointment, call (541) 389-1191.